ALL IN FOR IDAHO!
I am running for Idaho Senate, District 7 because I am concerned that conservative voices are not being effectively represented in the legislature. We need to replace the incumbent at the Capital that votes with Democratic voices in the Senate more than his conservative colleagues. He helps kill solid conservative proposals in committee before they ever get to come up for a vote on the floor. This is his way of playing shady politics with conservative values. The only way to put an end to his tap dancing with our chance to make changes for the better is to replace him. I NEED YOUR HELP TO REPLACE HIM.
I am a constitutional conservative, pro-family, pro-life and proud Idaho gun owner. I am proud to be married to my sweetheart, Guy for 40 years. Together, we have successfully created from scratch three local businesses that are still operational and employing Idahoans. We have four grown children who have successful careers in aviation. My conservative values, love of God, family, and community have been the foundation of who I am and have proven to helped me succeed in our business ventures.
My family and I are HARD CORE CONSERVATIVES! You can trust me to do what I say and say what I do. I will be YOUR watchdog in the capital to fight for our freedoms, less government intrusion, and protect our way of life in North Central Idaho.
I have a unique perspective that helps me understand and appreciate the issues we are facing today. The Carlson family has been ranching on the Salmon River for more than 100 years. This gives me a deep appreciation and understanding of our natural resource issues. I also have tangible and practical business experience in logging, aerial wildland firefighting, powerline construction and tourism.
I am a past School Board Member of JSD #241 and #243. I was part of a phenomenal team that was able to manage the newly created JSD #243. I know from this experience firsthand how important it is to empower parents with their responsibilities to be involved in the school system and what is taught to our children.
I currently hold a leadership position on the Helicopter Association International (HAI) Restricted & Experimental Category Aircraft (RECA) working group, and I am also a member of the HAI Utilities, Patrol, and Construction (UPAC) working group.
If you feel the need for serious change in Idaho politics like I do, please let me be that CHANGE to prevent Idaho from tilting LEFT of center.
Primary Election Day is May 17, 2022
Check Your Voter Record | Find Your Polling Location | Request An Absentee Ballot | District 7 Map
As a True Conservative, I will always…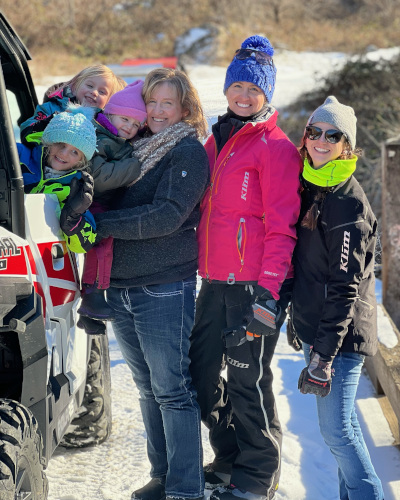 Fight for God's Values.
Fight for our rights to freedom of religion, of speech, and to assemble, as recognized by the First Amendment.
Fight for our right to Keep and Bear Arms as recognized by the Second Amendment.
Fight for common sense in governing and spending.
Fight to protect the children of Idaho from being indoctrinated and for their right to have their own opinions.
Fight to ban Critical Race Theory education in all of our schools.
Fight for the lives of the unborn and elderly.
Fight against vaccine mandates and passports.
Fight for the right to keep our medical decisions private.
DailyFLY.com — Learn More About Why Cindy Carlson is Running for District 7 State Senator
You may also mail a check to:
Cindy Carlson 4 Idaho
1525 Big Salmon Rd
Riggins, Idaho 83549